Discover more from AI LA's Newsletter
The latest news and activities from the most active community in the Greater Los Angeles region focusing on responsible AI.
Over 12,000 subscribers
4 days until Life Summit 2020
Hey there! AI LA's Life Summit is coming up on October 13-15th. Have you registered yet?
Whether you are science-focused or science-curious, AI LA's three-day summit will inspire and interconnect you through scientific storytelling.
Learn from researchers at the core of today's innovations, especially if you are interested in pursuing a career at the intersection of biotechnology and healthcare.
We have 60+ global speakers and 18+ hours of live content you can explore throughout the three days.
This is NOT another Zoom webinar, but a three-day interactive virtual symposium at the intersection of basic science and integrated data.
You'll have the opportunity to experience 1 on 1 video chat roulette sessions, where you'll meet other attendees and speakers for 3-10 minute meetings.
See you soon!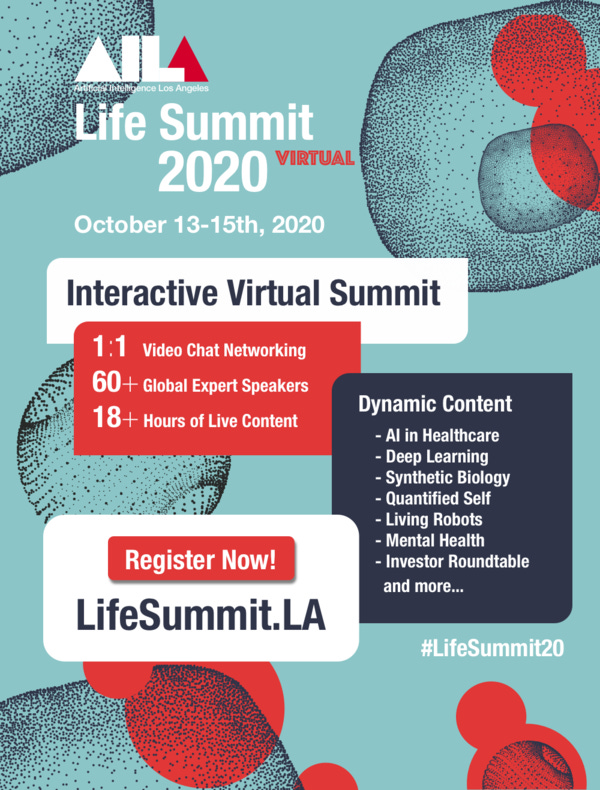 Educating and collaborating on subjects related to Artificial Intelligence (AI) with a wide range of stakeholders in Los Angeles. #AILA #LongLA #AIforGood
If you don't want these updates anymore, please unsubscribe here.
If you were forwarded this newsletter and you like it, you can subscribe here.
Powered by Revue