Discover more from AI LA's Newsletter
The latest news and activities from the most active community in the Greater Los Angeles region focusing on responsible AI.
Over 12,000 subscribers
AI, Healthcare, & Hacking Cancer + Mental Health
Hi there friend! Last week at AI LA's Moonshots event we celebrated the crazy ones: those who dare to break the mold, be different, and attempt to make the impossible, possible! (Livestream Here)
We are continuing on our daring mission to make LA the most active city focused on how artificial intelligence can benefit society by launching a new annual Summit focused on healthcare and life sciences.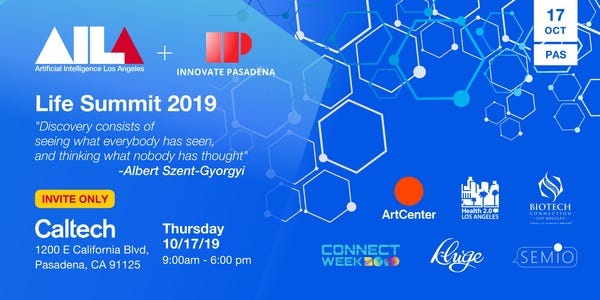 Creative by Jorge Raphael
On October 17th we are hosting our first annual Life Summit during Innovate Pasadena's Connect Week.
This invitation-only Summit at Caltech has been designed for health system leaders—including healthcare experts, data scientists, med-tech startups, civic service providers and researchers—to work together with successful, passionate professionals from a variety of industries.
The Summit will include facilitated breakout sessions, during which ArtCenter students will help visualize and align insights, questions and conversations using design-methodologies.
The goal is to develop actionable recommendations in a short period of time while also developing a plethora of new ideas and insights individuals can bring back to their own organization.
This is an opportunity for you to learn how healthcare systems are thinking about their problems, add value with your expertise while participating in a working group, and meet other like-minded professionals.
Current working groups:
Children's Hospital LA Innovation Lab

Doheny Eye Institute

Kaiser Permanente

Cedars-Sinai

Harbor-UCLA Medical Center

National Association of Social Workers
Apply to participate now! (we have limited space)
AI + Healthcare Networking and Moderated Panel
After our invite-only engagement with health system stakeholders, we will be opening up our Caltech auditorium for networking and a moderated panel with some highly distinguished members of our community, working in therapeutics, diagnostics, information systems, and digital health.
Early Bird Tickets On Sale Now!
MIT Hacking Medicine: Cancer & Mental Health Issues
But wait, there's more… We have partnered with MIT Hacking Medicine, a student organization at MIT who's mission is to democratize the healthcare system. We will be hosting a 3 day hackathon Nov 1-3rd with 2 tracks: Cancer and Mental Health Issues here in Los Angeles.
Learn More and Apply to Mentor or Participate
Want free tickets to Mobile World Congress and 4YFN Oct 22-24th?
Todd Terrazas will be moderating a fireside chat "Rise of AI in Digital Transformation" with David Allred, MD & Partner BCG Digital Ventures Seattle and he will be participating on the panel: "Women4Tech: AI Ethics, Diversity & Inclusion."
Reply to this email to get hooked up!
Educating and collaborating on subjects related to Artificial Intelligence (AI) with a wide range of stakeholders in Los Angeles. #AILA #LongLA #AIforGood
If you don't want these updates anymore, please unsubscribe here.
If you were forwarded this newsletter and you like it, you can subscribe here.
Powered by Revue