Discover more from AI LA's Newsletter
The latest news and activities from the most active community in the Greater Los Angeles region focusing on responsible AI.
Over 12,000 subscribers
AI LA 2019 Report & Insiders Invite
Hello friend! It's that time of year again. We are grateful to have you part of our community and contributing to the conversation.
Can you please help us with our 2019 Report and complete this 2 minute survey? We'll automatically add you to the VIP list for our 2nd annual summer rooftop party in August 2020.
We are planning more Data Challenges to address the UN's sustainable development goals and a Health Hack on Addiction in 2020, so please let us know if you are interested in our survey.
Join AI LA Insiders
AI LA Insiders is a paid membership program to help support Artificial Intelligence Los Angeles (AI LA), a California Non-Profit pending 501©(3).
We are hosting 24+ activities in 2020 and this membership gives you access to our online community 24/7 with these extras:
Insider Benefits:
* Join private working groups (i.e. Entertainment, Cybersecurity, Sustainability, Education, Healthcare, Ethics, Policy)
* Private messaging with members
* Exclusive content and insights from our partners
* Access to our job board
* Access to investors
* Access to mentors (Students only)
* Matchmaking with our Community Manager
* Targeted invites to activities you are interested in
* Invite to 'paid members only' events
* 15% off all AI LA Community Activities
* Access to special discounts and free tickets to our partner's events (SXSW, MWC, 4YFN, CoMotionLA)
Regular Price:
Student: $60/year
Professional: $240/year
Our introductory rate for 2019:
Student: $30/year
Professional: $150/year
Happy Holidays!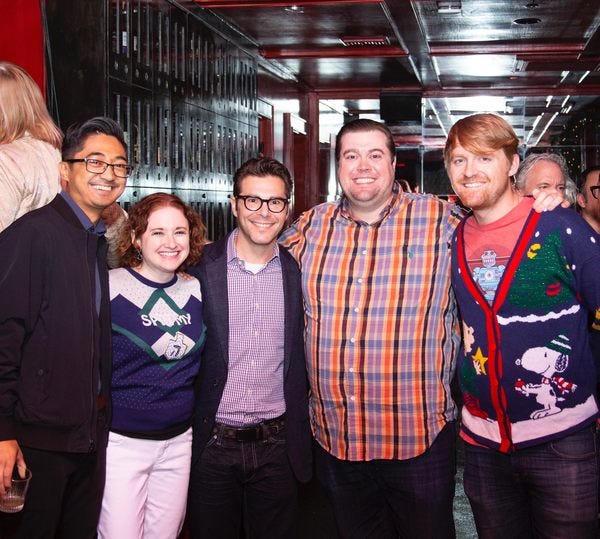 Jay, Felice, Shawn, Ross, & Todd
Educating and collaborating on subjects related to Artificial Intelligence (AI) with a wide range of stakeholders in Los Angeles. #AILA #LongLA #AIforGood
If you don't want these updates anymore, please unsubscribe here.
If you were forwarded this newsletter and you like it, you can subscribe here.
Powered by Revue