Discover more from AI LA's Newsletter
The latest news and activities from the most active community in the Greater Los Angeles region focusing on responsible AI.
Over 12,000 subscribers
AI LA 2022 End of Year
Get more involved in our 2023 activities!
Hey there!
I hope the holidays are treating you well, or if not, I hear ChatGPT can be a great therapist!
There is so much to be grateful for this year. 2022 has been an exploratory year for AI LA since we piloted two new programs IDEAS (Inclusivity, Diversity, Equity, and Allyship in STEAM) and the Open Innovation Studio, to learn how a workforce development program and an extended hackathon format could support our ecosystem.
The results: 70% of IDEAS Cohort 1 graduated with a nano-degree from Udacity in AI Product Management or AI for Business Leaders. We awarded $26,000 worth of grants to multiple teams in our Spring and Fall Open Innovation Challenges focused on climate and health. Our inaugural partners include the LA County Chief Sustainability Office, the All of Us Research Program, and RTI Rarity.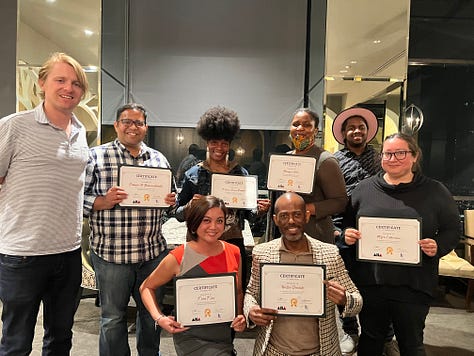 We also experimented with an edu-tainment experience "Darkness Behind the Light: A Love Letter to LA, (DBTL)" during LA Tech Week at the Fun For Funds Festival. DBTL is an abstract art project leveraging LA County data wrangled by James Macion, AI data sculpturing by Ouchhh Studio, custom LED monoliths by 3500 Kelvin, and narrative design by Rachel Joy Victor to tell a story about LA County's climate and health disparities. This is now an ongoing, multi-phased project, which I look forward to sharing more about in early 2023. Expect a full recap of 2022 in a blog released in January.
Holiday Party Recap
Thank you to everyone who participated in our holiday party at Plug and Play in downtown LA. We had 500+ attendees and plenty of toys, food, clothing, and gift card donations to Children's Hospital, LA Food Bank, Midnight Mission, and Safe Parking LA. Karma Automotive was an incredible partner, providing one of their 100% electric vehicles as our chariot for donation deliveries.
Thank you to all of our sponsors for their trust and support: Hawke Media, Dot.LA, BioscienceLA, ReweaveLA, Alliance for SoCal Innovation, Pacific Western Bank, UCLA LA BEST, Vice City, University Lab Partners, Factotum, Nuleep, PledgeLA, Biotech Connection LA, Cheers! TicketFairy, Fernish, BIB Technologies, Karma Automotive, Startup Starter, Story Inc, Lloyd Cellars, Titos, Dolce Vida, Passion Tree, Marquis, and Plug and Play.
---
AI LA's roots originated from a Meetup group created in April 2016 focused on chatbots. It has now grown into the 10k+ community it is today focused on developing a responsible AI ecosystem of practitioners and enthusiasts that serve the betterment of society.
Special Interest Groups
We are bringing back our regular Meetups, where community members like yourself can self-organize a virtual and/or in-person event. AI LA will be your marketing/outreach platform and potential sponsor.
Please fill out this form if you are interested in volunteering with AI LA and would like to become an ambassador to lead a special interest group focused on a specific industry or application of AI. Host a talk at your office, and we'll help promote it!
Founders
Are you building an AI company? We are curating intimate dinners and happy hours with local investors, so make yourself known via this link. Our next invite-only dinner will be in mid-February with Wonder Ventures.
Investing in your future by supporting your community
We have a lot planned for 2023, and we want you to be more involved. Individual donations, grants, ticket proceeds, and corporate sponsorships keep us running as a non-profit organization.
$100+ donations receive a free ticket to all our public events in 2023 except the Fun For Funds Festival and Holiday Party (you'll get the early bird price).
$500+ donations unlock an invite to a private donor event in 2023.
The New Age of Art & AI
Generative AI has taken over our newsfeeds, and the genie isn't going back into the bottle. Applications like Dalle-2, Midjourney, Stable Diffusion, ChatGPT, RunwayML, Jasper, and the like are here to stay. Resistance is not recommended! Those who choose to learn how to use AI in their personal and professional lives will outperform those who don't.
Join AI LA and Vice City Ventures on Thursday, January 26th, for an AI art showcase, panel discussion, live prompting competition and networking at Expert Dojo in Santa Monica.
​Confirmed Panelists
Don Allen Stevenson, XR Creator and AI Educator
Faith 'Aya' Umoh, Founder & AI Artist @ Creative Aya
Paul Trillo, Director @ Trillo Films
​Moderator
Lawrence Mansour, CEO at EZ-AD
Happy New Year!