Bringing Robots to Life March 19th
Hey friend! The AI LA Community is excited to announce a new track this year: Bringing Robots to Life on March 19th. Our brilliant Vice President, Dr. Ross Mead has curated a fantastic lineup of speakers to discuss the past, present, and future of the personal robotics revolution on March 19th. Get your tickets now!
On March 10th, we will be hosting our casual community happy hour at Two Bit Circus. RSVP HERE
There are also a few tickets left to our March 8th Women in STEAM event. Get your tickets here.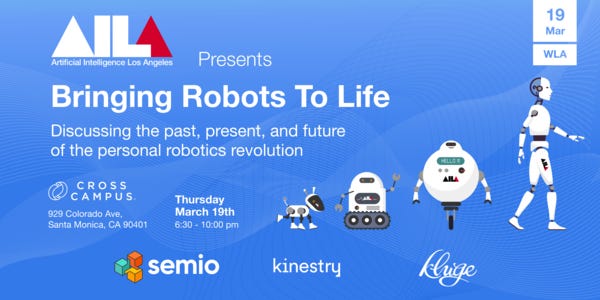 Design by Jorge Raphael
Data Scientists & Engineers Apply!
We are in early stages of developing a Decentralized Research Institute with some of our partners. This involves deploying 'nodes' across LA County. Spacepost in Venice Beach will be #1.
Interested in getting involved?
As a pilot program, we are developing a few data challenges which we will launch at our upcoming Earth Summit on April 16th and results will be presented at DataConLA August 22nd.
Themes: Tree Canopy, Mobility, Water, Air Quality, Energy.
Whether you already have a job, are looking for a job, or are still in school, we'd love to have you involved in these purpose-driven data initiatives centered around sustainability. Let's get our city prepared for the LA28 Olympics!
Please fill out this short form to be considered.
The Future Job Fair
On May 12th, we are hosting our first 'Future Job Fair' at Phase Two in Culver City, where participating companies have to create job titles and descriptions of the future. Attendees will have to apply to these jobs of the future.
It's going to be a ton of fun and we hope this creative way of rethinking the traditional job fair will help decrease employee turnover and improve loyalty.
How do you see yourself growing within the company you are working at today? What could be a job of the future at your current organization? How is your current employer preparing you for the future?
These are just a few questions we are pondering and we can't wait to hear your feedback.
Please reply back if you are a forward-thinking organization who wants to attract more loyal employees. We believe we have the solution for you!
Educating and collaborating on subjects related to Artificial Intelligence (AI) with a wide range of stakeholders in Los Angeles. #AILA #LongLA #AIforGood
If you don't want these updates anymore, please unsubscribe here.
If you were forwarded this newsletter and you like it, you can subscribe here.
Powered by Revue