Discover more from AI LA's Newsletter
The latest news and activities from the most active community in the Greater Los Angeles region focusing on responsible AI.
Over 12,000 subscribers
Coded Bias FREE Screening + AI LA Discussion
Hey there! We are closing out 2020 with a free virtual screening of Coded Bias thanks to Consumer Reports and we are hosting a discussion with members of The Algorithmic Justice League at 7 pm PT on the 14th.
You can watch the documentary for free until December 14th.
Here's what you need to do:
Register for the free virtual screening here.

Add the AI LA virtual discussion to your calendar for Dec. 14th at 7 pm PT.

Watch Coded Bias at your leisure before Dec. 14th.
About Coded Bias
Modern society sits at the intersection of two crucial questions: What does it mean when artificial intelligence increasingly governs our liberties? And what are the consequences for the people AI is biased against? When MIT Media Lab researcher Joy Buolamwini discovers that most facial-recognition software does not accurately identify darker-skinned faces and the faces of women, she delves into an investigation of widespread bias in algorithms. As it turns out, artificial intelligence is not neutral, and women are leading the charge to ensure our civil rights are protected.
In Coded Bias, Director Shalini Kantayya illuminates our mass misconceptions about AI and emphasizes the urgent need for legislative protection. From facial scanning used for policing and surveillance to automated HR systems that mirror and magnify workplace prejudice, these technologies are created with fundamentally biased building blocks. Emboldened by these remarkable and troubling discoveries, Buolamwini charts a way forward by joining ranks with other concerned experts to form a justice league committed to increasing awareness of the biases that underlie the technology that shapes our lives yet is largely free from legislative and public scrutiny.
Life Summit 2020 on YouTube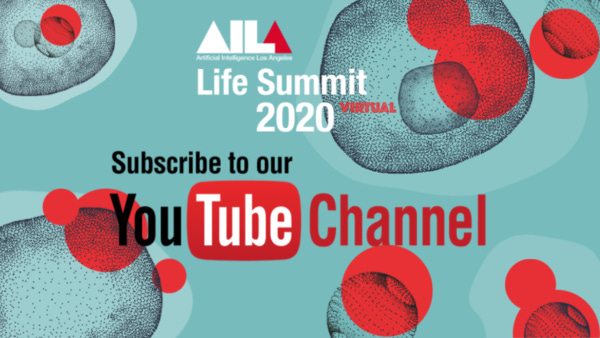 We've uploaded the remaining sessions of the Life Summit 2020 to our channel. Please subscribe and turn on notifications to get alerted when we release new content.
Happy Holidays!
We might be apart, but we aren't alone!
Please stay positive, test negative, and keep your loved ones safe and healthy.
We'll return in 2021 with new virtual content and hopefully some in person activities, which will shine a light on the frontier technologies being developed in Southern California and the important people behind it!
Best wishes,
AI LA
Educating and collaborating on subjects related to Artificial Intelligence (AI) with a wide range of stakeholders in Los Angeles. #AILA #LongLA #AIforGood
If you don't want these updates anymore, please unsubscribe here.
If you were forwarded this newsletter and you like it, you can subscribe here.
Powered by Revue