Discover more from AI LA's Newsletter
The latest news and activities from the most active community in the Greater Los Angeles region focusing on responsible AI.
Over 12,000 subscribers
Digital Health During a Pandemic
Hey there! In August, the AI LA Community has two extra virtual events to compliment our regular The New Normal series.
Wednesday August 5th @ 6pm PT - Catch our first debate on machine consciousness with computer scientist Steven Schkolne, and neuroscientist Megan Peters, with host Dylan Morris.
RSVP HERE - Are Machines Conscious? Debating AI's Final Frontier
Thursday August 6th @ 12pm PT - The New Normal episode 13 with Renée Cummings "Re-imagining AI Ethics." From a vocabulary of apology to a vocabulary of action; the making of a movement.
RSVP HERE - Re-imagining AI Ethics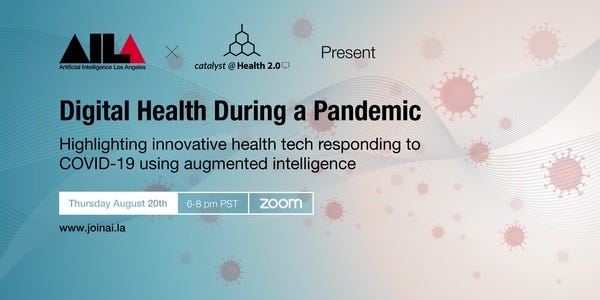 In collaboration with Catalyst @ Health 2.0 ("Catalyst"), we are proud to be hosting "Digital Health During a Pandemic," a virtual event that highlights innovative health tech responding to COVID-19 using augmented intelligence.
The event will take place on August 20th from 6-8 PM PT and will consist of a panel discussion, exciting Q&A and project demos with CA-based startups like Anchor Health, Syllable.ai, and Quantgene.
The panel discussion will be moderated by Catalyst @ Health 2.0's co-founder, Indu Subaiya.
AI LA Book Club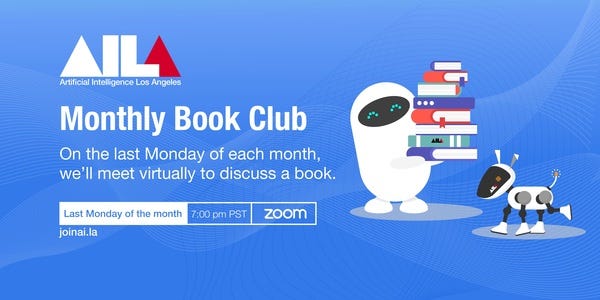 We have changed our Book Club's monthly meeting to every last Monday of the month at 7pm PT.
Please join us on Monday August 31st at 7pm PT to review the book:
Disunited Nations: Succeeding in a World Where No One Gets Along by Peter Zeihan
Should we stop caring about fading regional powers like China, Russia, Germany, and Iran? Will the collapse of international cooperation push France, Turkey, Japan, and Saudi Arabia to the top of international concerns?
Educating and collaborating on subjects related to Artificial Intelligence (AI) with a wide range of stakeholders in Los Angeles. #AILA #LongLA #AIforGood
If you don't want these updates anymore, please unsubscribe here.
If you were forwarded this newsletter and you like it, you can subscribe here.
Powered by Revue