Hope is a good thing, maybe the best of things...
Happy 50th Earth Day! I have some good news. AI LA members James Macion, Stephen Kwok, and their team Daly Tally won a bronze medal at the USC x UCLA Hack For Hope!
Team Daly Tally created a predictive model to risk stratify populations and generate actionable dashboards to guide resource allocation and planning. You can learn more here.
I wish we could celebrate together, but this is the new normal! We are changing our behaviors to save ourselves from ourselves, but we still need to stay connected.
In honor of all the brave humans in the world fighting COVID-19, we are producing a digital series to spark new ideas to build a better world.
The New Normal Series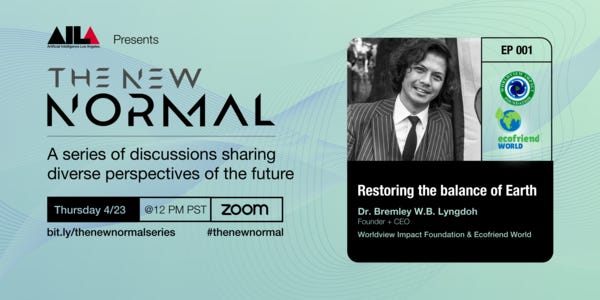 Graphic design by Jorge Raphael
The New Normal invites experts from around the world to share their perspective of the future. Each episode begins with a short talk by an esteemed guest speaker and concludes with 20 minutes worth of audience participation in cozy Zoom break-out rooms.
Come stimulate your brain with us for 30 minutes every Thursday at Noon Pacific Standard Time (PST) and let's see where the conversation takes us!
We are honored to launch our first episode with Dr. Bremley W.B. Lyngdoh. His talk will focus on his work restoring the land between the Himalayas to the Indian Ocean and inspire open conversations in small breakout rooms in Zoom.
EPISODE 1
"Restoring the balance of Earth starting from the Himalayas to the Indian Ocean"
Worldview Impact Foundation and EcoFriend World are restoring the cloud forest ecosystems in northeast India and the mangrove forest ecosystems in southwest Myanmar with a target of planting 1 billion trees by 2050. So far 1.5 million trees have been planted in Meghalaya, India as part of the One Citizen One Tree campaign and 6 million trees have been planted in the Delta Region of Myanmar in partnership with Worldview International Foundation, some using tree-planting drones that can plant 400,000 trees per day. They are building a cross-sector partnership between Governments, NGOs and private sector investors to explore what it will take to plant 1 billion trees, and the role of nature-based solutions to certify the environmental outcomes. The successful expansion of the two projects requires further financial incentives. To this end they have been working with Route2 in London to design, develop, and implement a new ecosystem service assessment, evaluation standard and tradeable token, using blockchain distributed ledger technology. This standard will ascertain the annual economic value of ecosystem services delivered by the forests that are restored, which has the potential to greatly increase the sustainability of the program and incentivise reforestation and continuous forest stewardship.
The cross-sector blockchain and climate change partnership will be addressing the challenges of total ecosystem collapse from serious land degradation that local indigenous communities living in northeast India and southwest Myanmar are facing. These issues are important given that these often vulnerable communities face food insecurity and lack sufficient resilience to climate change impacts.
Educating and collaborating on subjects related to Artificial Intelligence (AI) with a wide range of stakeholders in Los Angeles. #AILA #LongLA #AIforGood
If you don't want these updates anymore, please unsubscribe here.
If you were forwarded this newsletter and you like it, you can subscribe here.
Powered by Revue