Discover more from AI LA's Newsletter
The latest news and activities from the most active community in the Greater Los Angeles region focusing on responsible AI.
Over 12,000 subscribers
Invite: Life Summit Oct 17th
Hello Friend! It's October and we are launching our first Life Summit during Connect Week in Pasadena at Caltech on October 17th. This is a 2 part day. We are working with multiple health systems to workshop a specific problem they bring to us involving AI/ML.
We still have a few spots open. If you specialize in computer vision we would love for you to join us to help Doheny Eye Institute and HMRI with their eye and brain imaging problems.
You can also learn more about our upcoming Hacking Cancer and Mental Illness 3 day hackathon with MIT Hacking Medicine Nov 1-3.
Hang with us next week at our Pasadena Tech Happy Hour Oct 8th 6-9pm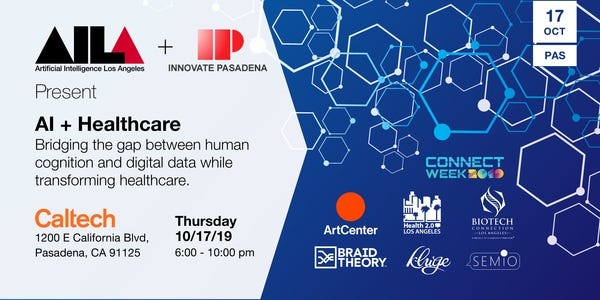 Creative by Jorge Raphael
Part of our Life Summit includes an evening of networking and listening to practitioners and academics discuss how artificial intelligence and machine learning are impacting their work and the healthcare industry.
Current Speakers:
Dr. Laura Li - Breakthrough Genomics
Dr. Dan Ruderman - Lawrence J. Ellison Institute for Transformative Medicine of USC
Dr. Yisong Yue - assistant professor of Computing and Mathematical Sciences at Caltech.
GET YOUR EARLY BIRD TICKETS NOW!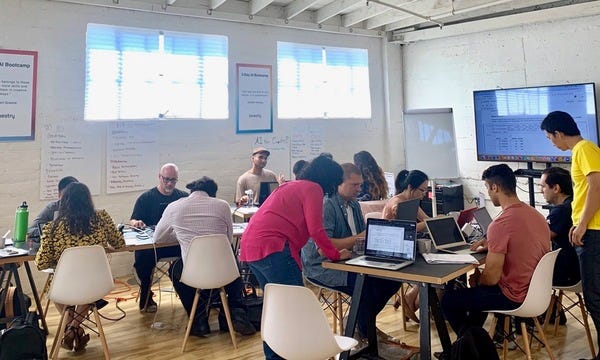 The first 5-Day AI Bootcamp in partnership with Kinestry was a real success! It really demonstrated how this unique format of combining intense technical training on AI with soft skills and storytelling is essential in order for engineers to start their AI journey and being able to engage the rest of their organization.
"That is the most important thing I learned this week, how to speak with the business functions and the executives to have them understand AI and embrace the initiative I will present."
October sessions are already full but November 4-8 is still open. Register now HERE. There is an early bird offer for a limited time and you can get an additional 20% off using the AI LA partnership discount: BOOTCAMP20.
Mobile World Congress - Four Years From Now (4YFN)
4YFN is one of the world's most influential startup platforms enabling startups, investors and corporations to create, discover and launch new ventures together. Held alongside MWC, 4YFN is the forum for entrepreneurship. Technology is changing the world, but entrepreneurs are changing technology.
4YFN convenes the brightest talent with the greatest ideas to develop the technologies of tomorrow. 4YFN is where top-flight investors connect with the hottest startups to change the world and where major corporations find early stage innovation to acquire or commercialise.
Get a free Silver Pass: FEPTF7PNZA
Educating and collaborating on subjects related to Artificial Intelligence (AI) with a wide range of stakeholders in Los Angeles. #AILA #LongLA #AIforGood
If you don't want these updates anymore, please unsubscribe here.
If you were forwarded this newsletter and you like it, you can subscribe here.
Powered by Revue