Discover more from AI LA's Newsletter
The latest news and activities from the most active community in the Greater Los Angeles region focusing on responsible AI.
Over 12,000 subscribers
Life Summit Speakers Announced!
Hey! On October 13th-15th, AI LA is hosting 3 days of dynamic virtual content to help us Reflect, Recenter, and Reimagine science in the age of COVID-19.
Whether you are science-focused or science-curious, AI LA's three-day summit will inspire and interconnect through scientific storytelling.
We have over 30 speakers confirmed and there are more to come!
We just launched our new website, where you can learn more about our speakers and officially register for the event.
We will be covering the following topics:
Hackers Without Boarders

Global Pivot with XPRIZE

Mental Health Support with AI

LA's COVID-19 Response

Telehealth

Health Systems Stressed

Robot-assisted Surgery

Deep Learning

Investors Roundtable

High Performance Computing

AI Applications in Ophthalmology

AI in Healthcare

Fighting Cancer

AI Wet Labs

Quantified Self

Biohacking

Synthetic Biology

Programmable Molecular Robots

Sustainable Living Systems
Thank you to our community partners for their expertise and outreach!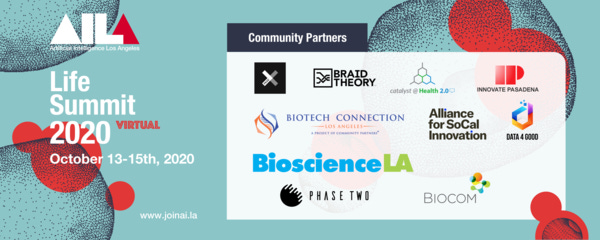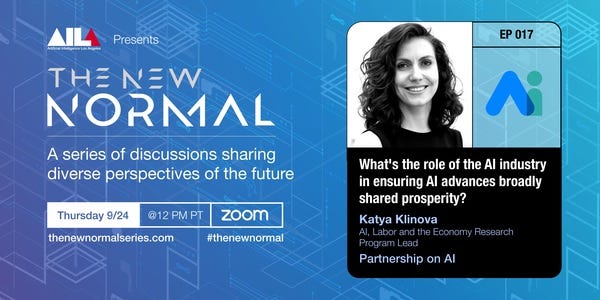 Join us this Thursday 9/24 at noon PT for an episode of The New Normal.
'What's the role of the AI industry in ensuring AI advances broadly shared prosperity?' By Katya Klinova
AI is poised to reshape the global economy and change the makeup of the skills required to succeed in it. The burden of adjusting to these changes is placed by default on those who have the fewest resources to bear it. Instead of expecting workers to continuously adjust to the changes brought on by automation, what would it take to steer the path of AI advancement to meet workers where they are and expand their earning potential at their existing skill levels?
REGISTER: https://us02web.zoom.us/meeting/register/tZIld-iqqz0vE9P_yQrq3rq80-EcyH5z1l23
Katya Klinova is a Program Lead at the Partnership on AI, where her work focuses mainly on the AI, Labor, and Economy thematic pillar. She is passionate about ensuring that technological progress fulfills its potential to be an equalizing force in the world.
See you soon!
Educating and collaborating on subjects related to Artificial Intelligence (AI) with a wide range of stakeholders in Los Angeles. #AILA #LongLA #AIforGood
If you don't want these updates anymore, please unsubscribe here.
If you were forwarded this newsletter and you like it, you can subscribe here.
Powered by Revue