Discover more from AI LA's Newsletter
The latest news and activities from the most active community in the Greater Los Angeles region focusing on responsible AI.
Over 12,000 subscribers
Moonshots & MIT Hacking Cancer & Mental Health Issues
Hey there! We hope to see you tonight at AI LA's casual happy hour at Kay N Daves in Culver City 6-9pm and at Phase Two on September 19th for our Moonshots event.
Moonshots Sept. 19th 6:30pm-10pm
We are mixing things up for Moonshots. Instead of a moderated panel, we will have some stellar lightening talks and a "science fair" outside to demo some pretty spectacular projects.
Melodie Yashar - NASA Ames Human-Computer Interaction "Autonomously Constructed Surface Habitats & Structures"

Nova Spivack - Arch Mission "AI For Future Archaeologists"

Bill Klein - Rival Theory "AI Persona: Unlimiting human ability to connect, communicate, and contribute at scale"

Seyed Sajjadi - nFlux AI "Moving towards general computational intelligence one practical, sustainable solution at a time"

Ted Berger - USC "Neural-prostheses for human memory"

Kristina Libby - Hyper Giant "The Transnational Threat of AI"
Life Summit + MIT Hacking Medicine
This October, AI LA is focusing on healthcare and life sciences. To do this, we have been busy partnering with some beautiful organizations like Innovate Pasadena, Caltech, ArtCenter, Health 2.0 LA Chapter, Biotech Connection LA, Braid Theory, and more to be announced very soon.
Health system stakeholders like CHLA Innovation Lab, Doheny Eye Institute, Harbor-UCLA Medical Center, and Cedars-Sinai have already committed to our Life Summit and others will be confirmed in the coming weeks.
Do you know people who work in pharma, EHR, insurance, or other local hospitals? Please help us bring every health system stakeholder to the table to workshop pressing issues.
Apply for our Invite-Only Life Summit Oct 17 9am-6pm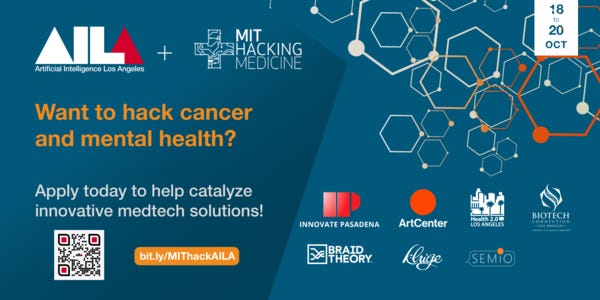 We have partnered with the MIT Hacking Medicine student organization to facilitate a 3 day hackathon October 18-20th with two tracks on Oncology and Mental Health Issues.
We will be connecting the best minds across the healthcare ecosystem in Southern California to catalyze affordable medical technology, business models and process innovations to transform cancer prevention, diagnosis, and care.
We will also explore reinventing therapy, stress and anxiety relief, workplace wellness, and other topics concerning mental health.
Please sign up here and spread the word to your network!
CoMotion LA
CoMotion LA brings together the brave new world of the urban mobility revolution — a revolution that is set to transform every city in the world, large and small. Join them at the global laboratory of future mobility, this November 14 & 15, and meet the best and brightest from the worlds of transportation, technology, and urbanism. AIALA members can save over $400 when they use code AILA25. Register today!
Educating and collaborating on subjects related to Artificial Intelligence (AI) with a wide range of stakeholders in Los Angeles. #AILA #LongLA #AIforGood
If you don't want these updates anymore, please unsubscribe here.
If you were forwarded this newsletter and you like it, you can subscribe here.
Powered by Revue