Discover more from AI LA's Newsletter
The latest news and activities from the most active community in the Greater Los Angeles region focusing on responsible AI.
Over 12,000 subscribers
RSVP: Life Summit Oct 13-15, 2020
Hello! This year, the AI LA Community has decided to take a different approach to our annual Life Summit. We are hosting 3 days of dynamic virtual content to help us Reflect, Recenter, and Reimagine science in the age of COVID-19.
As the world had only begun to embrace the possibilities and promise that a new decade brings, our sense of "normal" was stopped in its tracks by the sudden and tragic emergence of the global Coronavirus pandemic. With millions infected, hundreds of thousands perished, and socioeconomic hardship brought about by mandatory quarantines, few lives have been left untouched.
All eyes have now focused on the world of biomedical science, both for delivering the vaccines and therapeutics necessary to overcome the current pandemic and to usher in a bigger, better and brighter future for us all.
In historical never before seen fashion, research labs, hospitals, and private industry have all opened their doors to collaborate, contribute, and innovate in a global effort against COVID-19.
Over the course of just five months, the pandemic has accelerated data-driven approaches through the adoption of telemedicine, R&D in computational biology, health care and infectious disease response.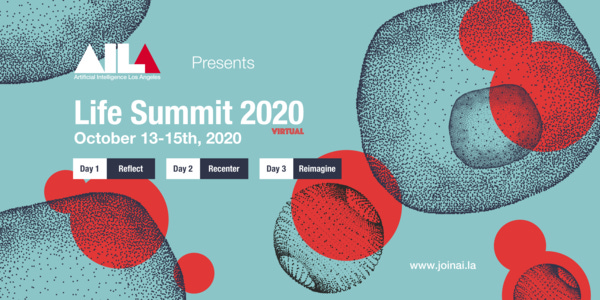 Join AI LA for a three-day tribute to this unprecedented advance in knowledge, progress, data collection, and a preview of what tomorrow might bring.
On Day One, we reflect back on the rapid response in the health care and science communities as a new threat emerged.
On Day Two, world-renowned experts in computational biology and life science help us recenter for a deeper understanding of ongoing research and future data analysis trends.
On Day Three, we reimagine a post-COVID19 biotechnology foundation that will allow us to keep solving, keep pushing, and establish new frontiers of research.
Why Attend?
Whether you are science-focused or science-curious, AILA's three-day summit will inspire and interconnect through scientific storytelling. As we embrace the New Normal and pave the way to a better future, biotech and life science will be the epicenter for a healthier future. Learn from the researchers at the core of today's innovations, especially if you are interested in pursuing a career at the intersection of biotechnology and healthcare. Through our collective effort, we can provide support and motivate those already working in these industries to continue advancing possibilities and saving lives.
The Life Summit is a forum for coming together as a community, a platform for exchanging ideas, and a catalyst for the scientists of the next generation.
Interested in sponsoring, speaking, or exhibiting? Please fill out this form.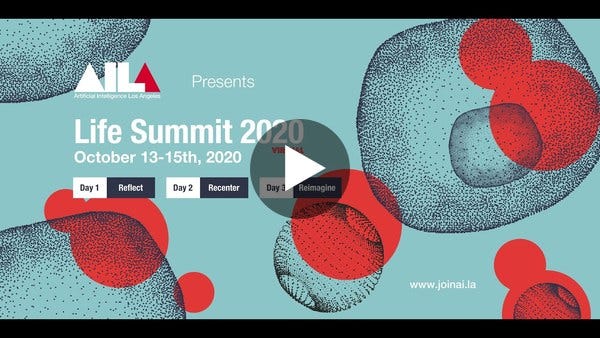 AI LA Life Summit 2020 Promo
Educating and collaborating on subjects related to Artificial Intelligence (AI) with a wide range of stakeholders in Los Angeles. #AILA #LongLA #AIforGood
If you don't want these updates anymore, please unsubscribe here.
If you were forwarded this newsletter and you like it, you can subscribe here.
Powered by Revue