Thank you! Party + Deep Learning
Hey! This is Todd Terrazas from Artificial Intelligence Los Angeles (AI LA), wishing you holiday cheer as we enter into the final month of the year.
There is so much to be thankful for this year and a lot to look forward to in 2020! We have a lot more technical activities planned and more digital content for those critical thinkers.
Have you fully registered for our free online community yet?
If you register today for free, you'll get a special invite to join our paid Insiders membership tomorrow – Join working groups, get early access to data challenges, private message members, Job Board, and exclusive content from our partners.
We have recently partnered with IBM to host our end-of-the-year Holid(AI) Social on 12/10 in downtown.
Expect great food, drinks, music, and conversation.
In the spirit of Cyber Monday — Buy 1 and get 1 free!
Yes, for $10 you and a friend can celebrate with us :-)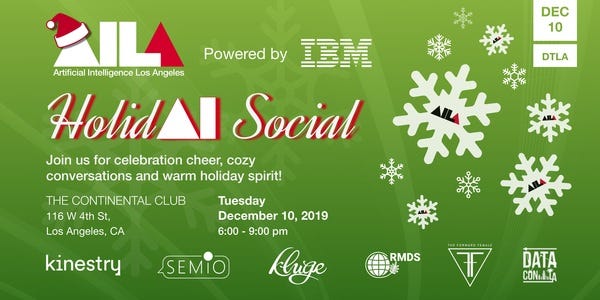 Creative by Jorge Raphael
We also teamed up with Accenture to host multiple talks on deep learning on 12/12 at Phase Two in Culver City. Speakers are from Caltech, Accenture, Bird, and Google's @StudentDave.
Limited space — RSVP NOW (Free)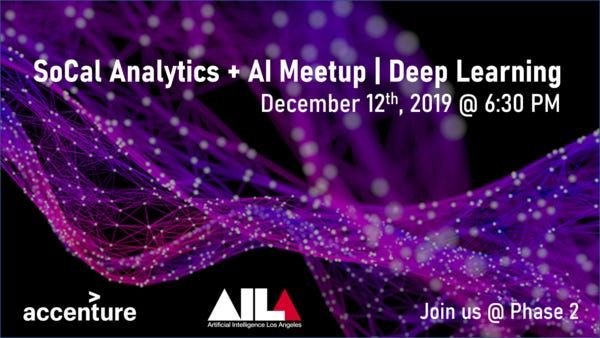 Subscribe to our Google Calendar to stay up-to-date on our latest activities.
For your reference:
Every second Tuesday of the month we have a Community Happy Hour with a rotating venue.
January 16th: AI in Fintech
February 20th: AI in Production
March 19th: Bringing Robots to Life
April 16th: Earth Summit 2020
May 21st: Future of Work
June 18th: 3rd Annual: Ethics and Fairness Symposium
July: <Summer Break>
August 11th: A Data-Driven Summer Soiree
September 17th: AI in Sports
October 15th: Life Summit 2020
November 19th: Community Roundtable
December 8th: Holiday Party
See you soon!
Educating and collaborating on subjects related to Artificial Intelligence (AI) with a wide range of stakeholders in Los Angeles. #AILA #LongLA #AIforGood
If you don't want these updates anymore, please unsubscribe here.
If you were forwarded this newsletter and you like it, you can subscribe here.
Powered by Revue