Discover more from AI LA's Newsletter
The latest news and activities from the most active community in the Greater Los Angeles region focusing on responsible AI.
Over 12,000 subscribers
The New Normal
Hey there! During the pandemic, the AI LA Community has been meeting every Thursday at Noon PST to listen to a short talk by an invited guest speaker and to engage in small discussions in Zoom breakout rooms.
The New Normal is a safe space for debating and discussing the issues presented by the speaker. Audience participation helps people learn, retain information, and ideally take action post-event.
Today, we finally hit double digits with our 10th episode!
Nichol Bradford, Founder and CEO of The Willow Group and Executive Director & Co-Founder, Transformative Tech Lab will be giving a talk on "Unlocking human potential with artificial intelligence".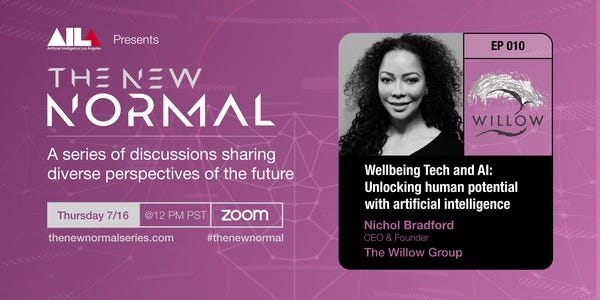 Next week, on July 23rd we have Mariana Acuña Acosta, Co-founder and Chief Product Officer at Glassbox Technologies giving a talk on "DIY Virtual Production".
We'll learn how the pandemic has affected content creation, giving an expedited roadmap for real-time technologies to expand beyond known workflows, remote collaboration, how filmmakers are staying creative, and continue to do their jobs while working from home.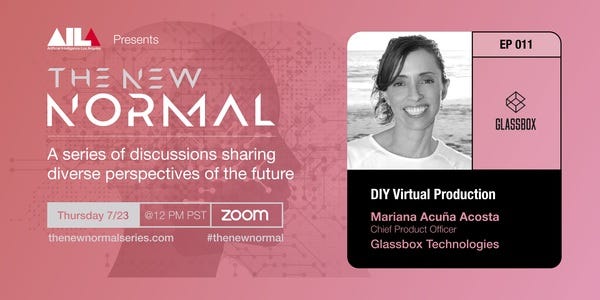 We have also started a book club! We meet on the last Sunday to review AI LA's book of the month and to vote on the following month's book.
July's book is "Captivating Technology: Race, Carceral Technoscience, and Liberatory Imagination in Everyday Life" by Ruha Benjamin.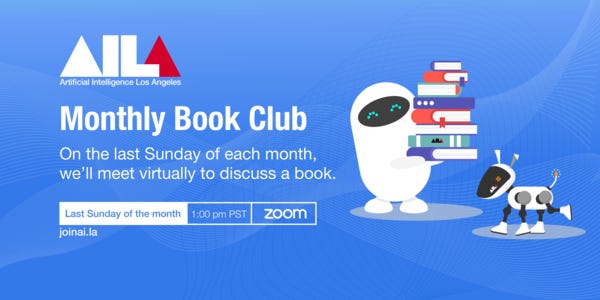 If you want to stay up to date on all of our activities, you can add our public Google calendar to your calendar here.
We are currently planning a lot of exciting virtual activities with some of our partners, so stay tuned for more updates in the coming weeks.
As always, feel free to reply back to this email if you would like to help our community grow during these chaotic times.
Stay healthy, happy, and engaged!
Todd Terrazas
Executive Director
AI LA Community, a 501©(3) non-profit
Educating and collaborating on subjects related to Artificial Intelligence (AI) with a wide range of stakeholders in Los Angeles. #AILA #LongLA #AIforGood
If you don't want these updates anymore, please unsubscribe here.
If you were forwarded this newsletter and you like it, you can subscribe here.
Powered by Revue